Many teachers feel today that meeting students where they are is the best approach to improving education. While this usually means building on the skills a student possesses at whatever level they are, one organization in Harrisonburg, Virginia is taking the phrase "meeting students where they are" quite literally.
The Reading Road Show, more affectionately known as the Gus Bus, is a classroom on wheels that brings after-school literacy programs and tutoring to children's doorsteps. This inventive education program and 2019 True Inspiration Award winner began in 2003 when educators were discussing ways to improve school readiness for students entering kindergarten. At the time, reading levels were staggeringly low and children were entering the school system completely unprepared.
That's when an ambitious group of early childhood educators took an out-of-the-box approach to increasing literacy in their area. They converted the back of a van into a library, which became the "reading road show."
Bringing books to students' doorsteps
What started as a service at a few daycares around town, the Reading Road Show-Gus Bus has evolved into a program sponsored by James Madison University that provides an on-the-go classroom to neighborhoods in the city of Harrisonburg and in Page County. By bringing the Gus Bus to the doorsteps of these students' homes, they are able to participate in story time, learning activities and crafts in a safe environment. These weekly interactions aim to grow a love of reading and improve school readiness in Pre-K and elementary school-aged children.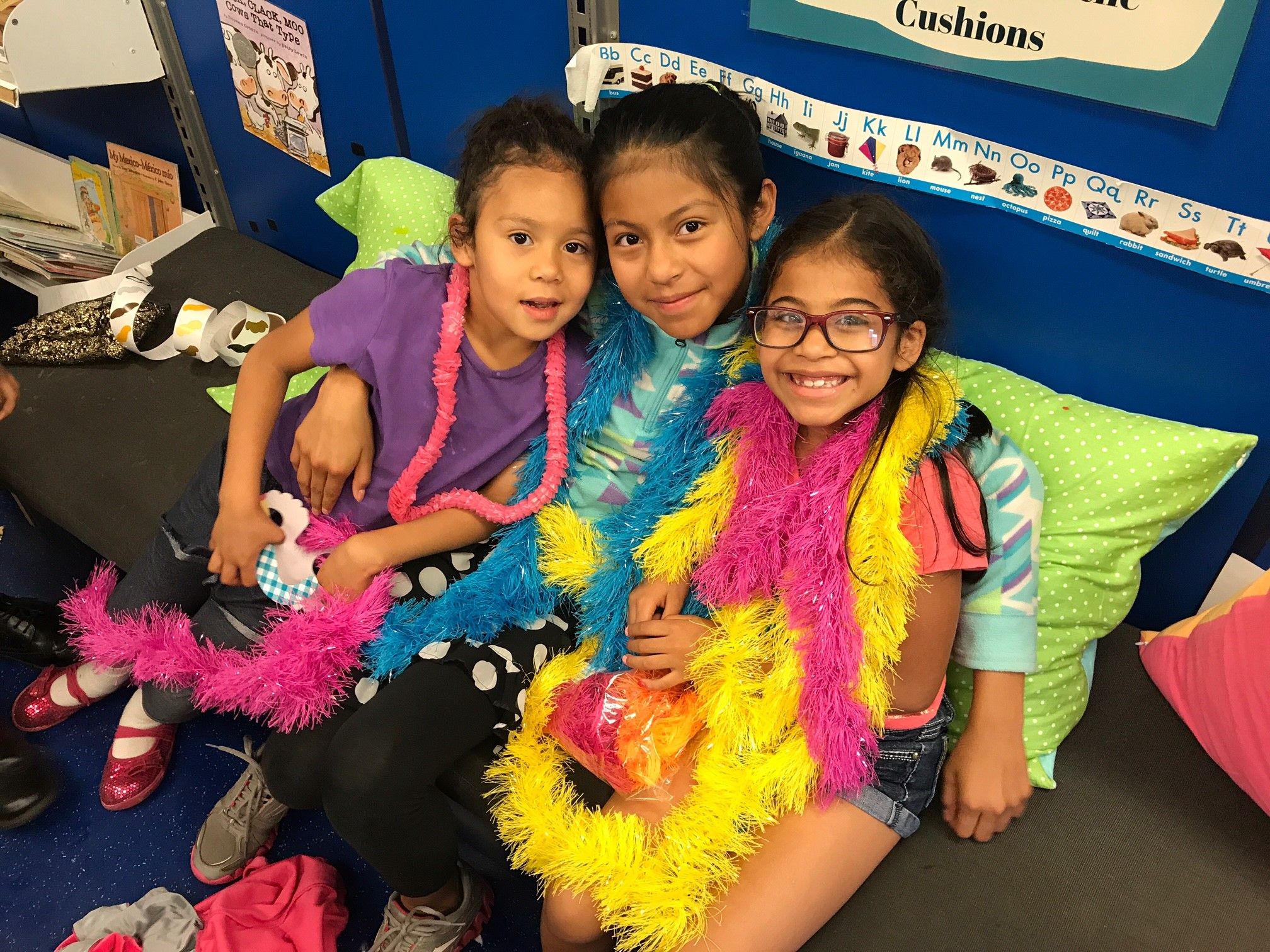 Education also starts with proper nutrition. In addition to the literacy program, the Gus Bus works with the Blue Ridge Area Food Bank to give out bags of food at each neighborhood stop. The mobility of the program allows children to participate who otherwise may not have access to similar programs and resources due to lack of transportation.
"With a lot of the families we work with, either both parents work or there's only one vehicle for the parents to share," said Jolynn Bartley, assistant director of children and youth services at JMU. "Because of that, the parents are unable to provide extra time or transportation for their kids. As parents, they want to give their children great learning opportunities but may be constricted by their work schedule or income. We seek to fill that gap by making it easier to access those resources."
Filling the gap in the community wouldn't be possible without the network of volunteers that participate on a weekly basis. With only three full-time time employees, the organization depends on the individuals that dedicate their time and effort to these students.
Relying on volunteers
While certified educators are hired by the Gus Bus program to craft lesson plans and drive the bus, more than 50 college students from JMU volunteer every semester to ride along and connect one-on-one with the children they serve.
Katherine Duley, a graduating senior at JMU with a degree in social work, has been volunteering with the program since her freshman year and plans to stay involved after college.
"You not only see the progression of these kids' reading skills, but also how much it improves their confidence when you work with them on a weekly basis," Duley said. "My favorite part of volunteering is getting to know their personalities and their families and seeing how the Gus Bus has had a positive impact on all aspects of their life."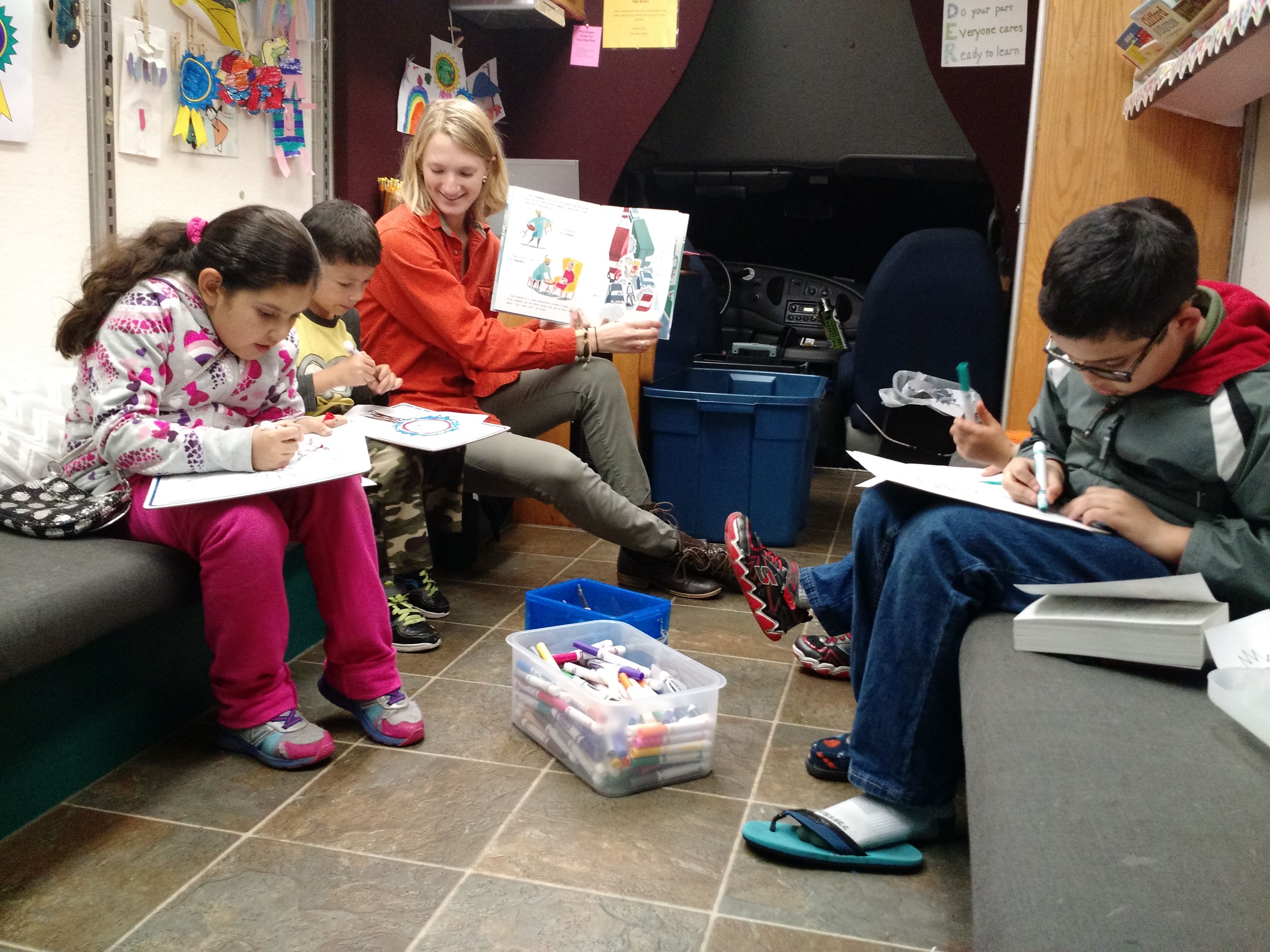 The Reading Road Show-Gus Bus plans to further harness the skills of its college volunteers. JMU students are currently researching and identifying the most cost-effective way to make updates to the Gus Bus vehicles. Purchased in 2003 and 2005, the vans are due for a few upgrades in order to continue serving as mobile classrooms. With the $75,000 True Inspiration Award grant, the updated vehicles will continue to serve this expanding community.
Supporting a diverse community
During the past few years, the city of Harrisonburg and the surrounding rural areas in Page County have seen a growing, diverse student population.
Due to the refugee resettlement program and a large population of migrant workers, students from all backgrounds interact with the Gus Bus. With large Hispanic and Middle Eastern populations, there are currently more than 50 languages spoken in the Harrisonburg school system. Many children in the area enter school unprepared simply because they speak little to no English. This challenge has been partially met with help from the Gus Bus's language development program.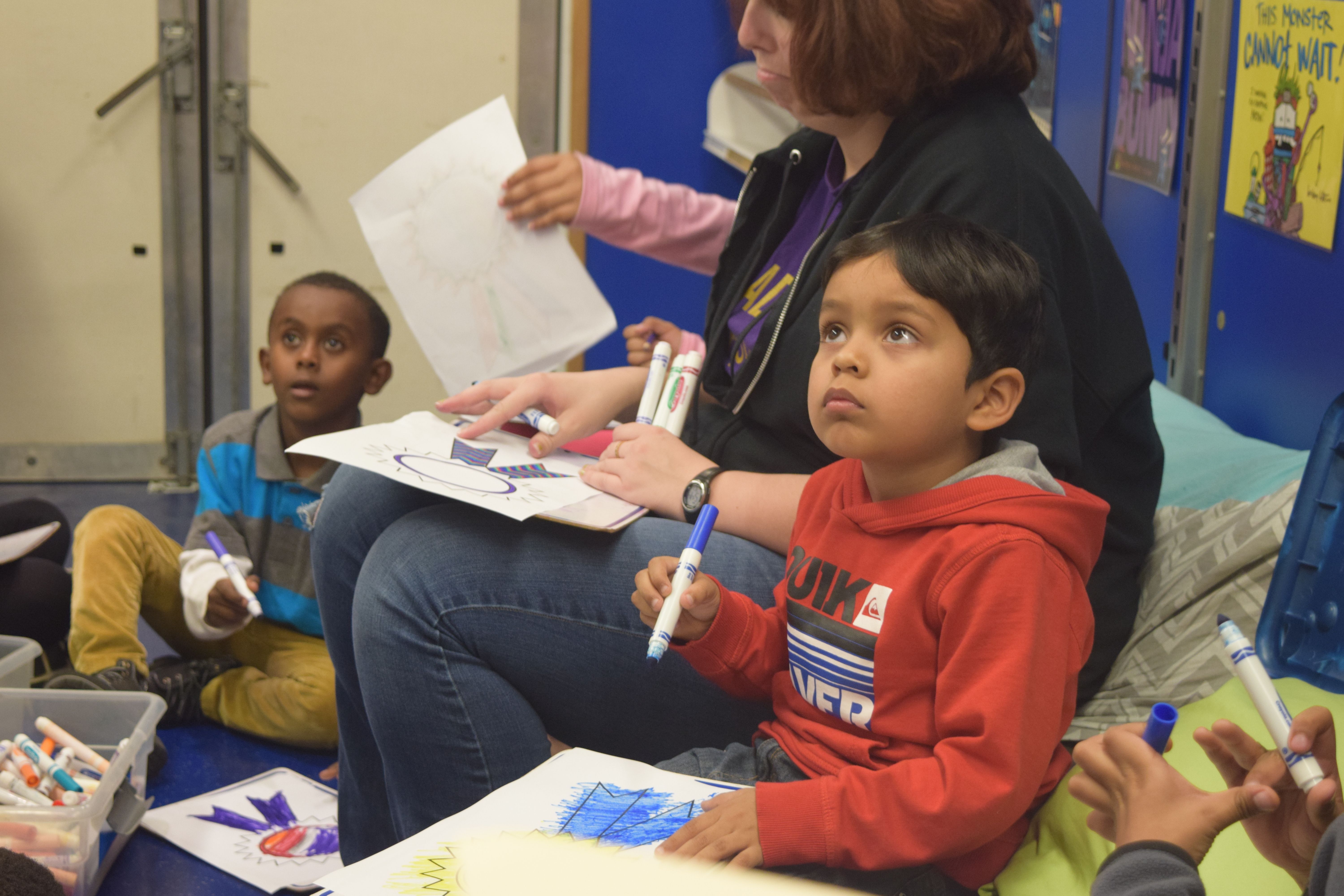 One student in particular, who was relocated to Harrisonburg from Kuwait, was looking for a way to meet friends. She knew very little English and felt lonely and isolated from her classmates due to the language barrier. The Gus Bus helped her start speaking English and feeling more comfortable with the English language. As she began participating in the lessons and checking out books, her vocabulary expanded tremendously.
"She really came out of her shell on the bus," said Kathleen Stoehr, a migrant student advocate. "She was able to meet other students and learn from them. Since she felt comfortable being around these other students, she was not holding back and was not afraid to say a word or phrase incorrectly."
Migrant students aren't only accessing the Gus Bus to enhance their reading skills, but they are also learning about their new language and country in an atmosphere that fosters friendship and inclusivity.
Advancing forward
Considering there has been a steady rise in school readiness since its inception in 2003, the Gus Bus has begun focusing on supplementing elementary-level education and improving the language skills of students learning English as their second language. The program plans to do this by starting a conversation and leading a concentrated effort to remedy a problem facing their community.
To meet all of our 2019 True Inspiration Awards recipients, visit https://www.chick-fil-afoundation.org/true-inspiration-awards.