In Prince George's County, Maryland, four men were distraught by the negative news surrounding young African-American men in their community: Only 55 percent of black males were graduating from high school and faced high incarceration rates, unemployment and poverty.
With many of these young men being raised in single-parent households without a positive male influence in their lives, Robert Malone and his neighbor Arthur Jones-Dove decided to step in. In 2005, they started spending their Saturdays mentoring at-risk young men in their own homes.
From those Saturday sessions, Mentoring to Manhood - a recipient of a 2019 Chick-fil-A Foundation True Inspiration Award grant for $100,000 - was born. The small, grassroots organization dedicated itself to teaching young men life and manhood skills - from learning how to tie a tie to building a strong character. What started small, grew to serve 150 middle and high school-aged boys.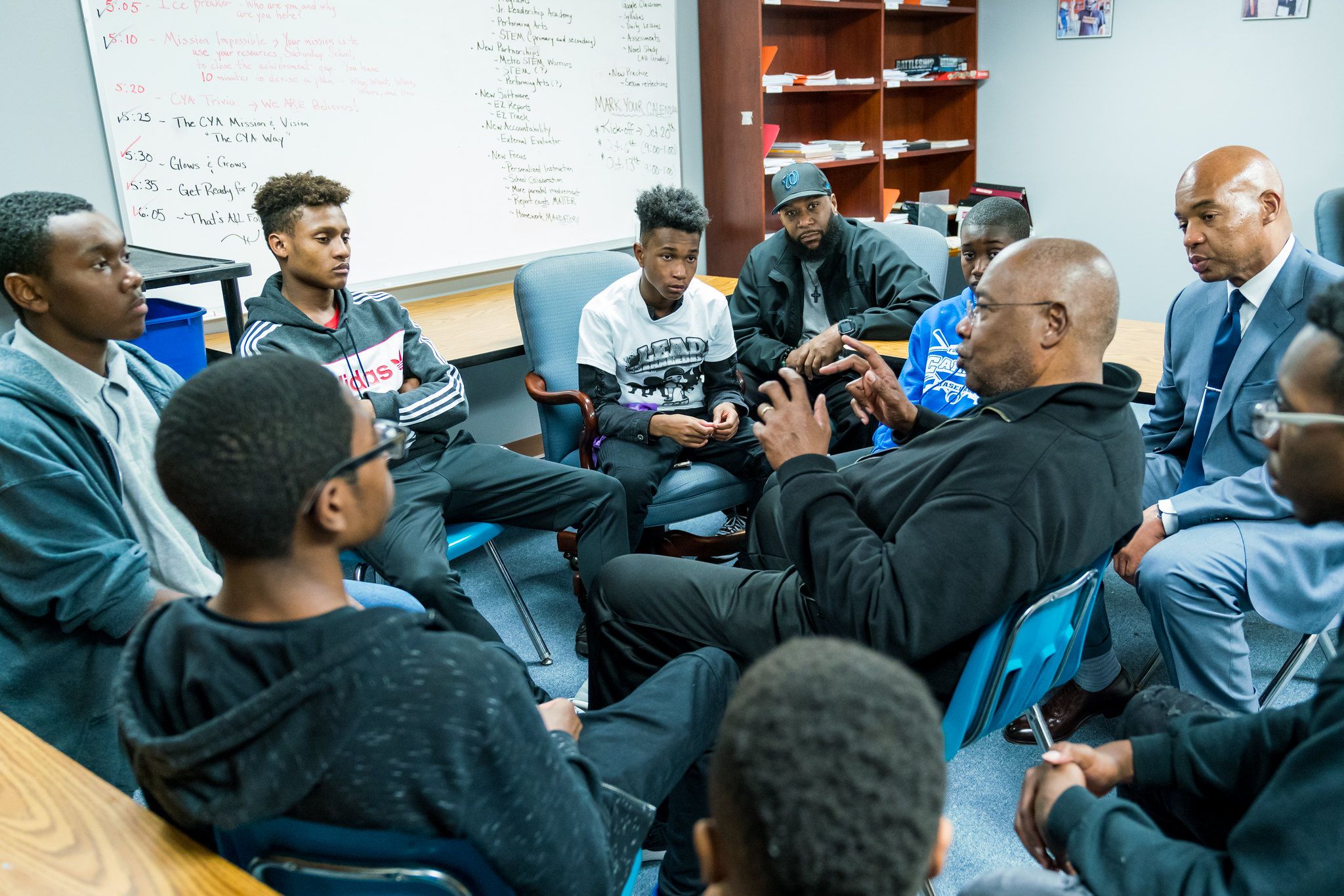 A new chapter
As the organization grew, Robert and Arthur recognized the need for additional support for the young men, especially with their academics. To provide support in the classroom, and to offer a more holistic approach to personal improvement, Mentoring to Manhood partnered with Community Tutoring Inc in 2017. The two organizations officially merged to form Community Youth Advance in 2018. Now, Community Youth Advance is serving 600 students across eight sites in Prince George's County and Ward 5 Washington, D. C.
Here's how the program works.
The public-school system identifies students performing below grade level and offers them after-school tutoring and mentorship through Community Youth Advance. Teachers from both Community Youth Advance and the school system connect with students one-on-one for an hour of tutoring and an hour of mentorship activities at one of their neighborhood sites. It's here where they can build on the state curriculum and work on any areas that they are struggling in. These services are offered from grades K-12 with additional college admissions support for high school students.
"We're leveraging that out-of-school time to still focus on academics and character development, but we're doing it in a way that's not as structured as a classroom would be," said Danielle Milner, executive director of Community Youth Advance and former mentee of the Community Tutoring Inc after-school program, "I love coming to work and seeing the mentees after they've gone to school all day and then they're here for more academics. You would expect them to slog through their homework, but it's a fun, engaging time for them to connect with other students and their mentors."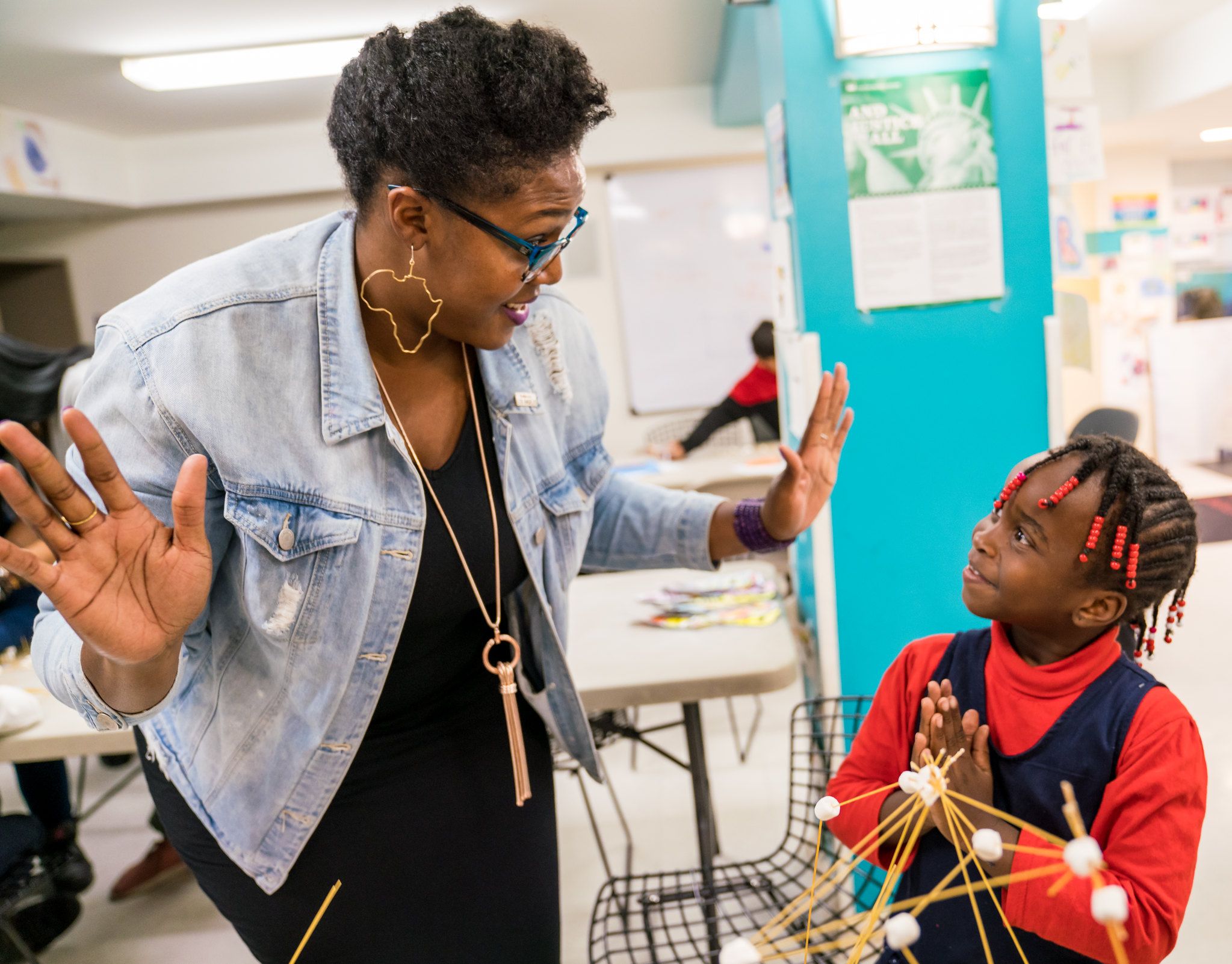 From mentee to mentor
Danielle isn't the only mentee who has found her way back to Community Youth Advance.
Cavaggio Massiah, a former mentee of Mentoring to Manhood, is graduating this month from Bowie State University with a degree in sociology. He plans on going into economic and housing development and hopes to make a name for himself in politics - he wants to be mayor of Bowie someday. Cavaggio first got involved with the program because his mother thought it would be good for him to have a strong male presence in his life.
"At first, I thought there's no way that my mentors would be interested in how I was doing in school, if I was doing my homework, or how my life was going," Massiah said. "I was amazed that they were spending their time and effort on me."
Now, Massiah is a regular fixture at Community Youth Advance, filling the "big brother" role as the youngest mentor. He bonds with his mentee over their love of basketball and sees him as a younger version of himself going through the same struggles he did at that age.
"I understand what it's like not necessarily having a father figure or male role model in your life, and how important it is to have someone keeping you on the right path," Massiah said. "Being involved in this program both as a mentee and a mentor has taught me to not be selfish. That lesson has inspired my career choice of investing time and effort into other people."
A bright future ahead
Community Youth Advance has made huge strides this year, increasing from 350 to 600 students served. On average, students in the program have also increased 33 percent on their state standardized tests, which can sometimes be the difference between a failing or passing grade.
With the $100,000 True Inspiration Award grant, Community Youth Advance plans to the leverage the funds over the next three years in order to sustain college tours for students, provide training for mentors, deepen the impact with the students they currently serve, and continue to grow the number of students reached.
"You can feel the electricity and momentum here at our headquarters since we received this grant," Milner said. "The fact that Chick-fil-A Foundation would recognize us is such a big encouragement for our mentees and our mentors. It's huge to think that our small nonprofit has risen to the ranks of receiving this award. It's given us the opportunity to dream a little bigger and reinforce the program. We can look at our mentees and ask: What inspires you? What else could we be doing? How do you want to get involved? How do you want to hear your voices heard?"
Watch this video to see how the Chick-fil-A Foundation surprised Community Youth Advance/Mentoring to Manhood with the $100,000 grant.
To meet all of our 2019 True Inspiration Awards recipients, visit https://www.chick-fil-afoundation.org/true-inspiration-awards.