"Nearly every moment of every day we have the opportunity to give something to someone else-our time, our love, our resources. I have always found more joy in giving when I did not expect anything in return." ~ S. Truett Cathy
On May 9, the Chick-fil-A Foundation hosted its 2019 True Inspiration Awards in Atlanta to celebrate 22 deserving not-for-profits that are improving the lives of children in their local communities through innovative education, emerging leader development and youth entrepreneurship. The awards, now in its fifth year, were created to carry on Chick-fil-A founder S. Truett Cathy's legacy of generosity, community service and dedication to helping every child become all they can be. Each organization honored embodies this vision by having a positive impact on the young people in their communities.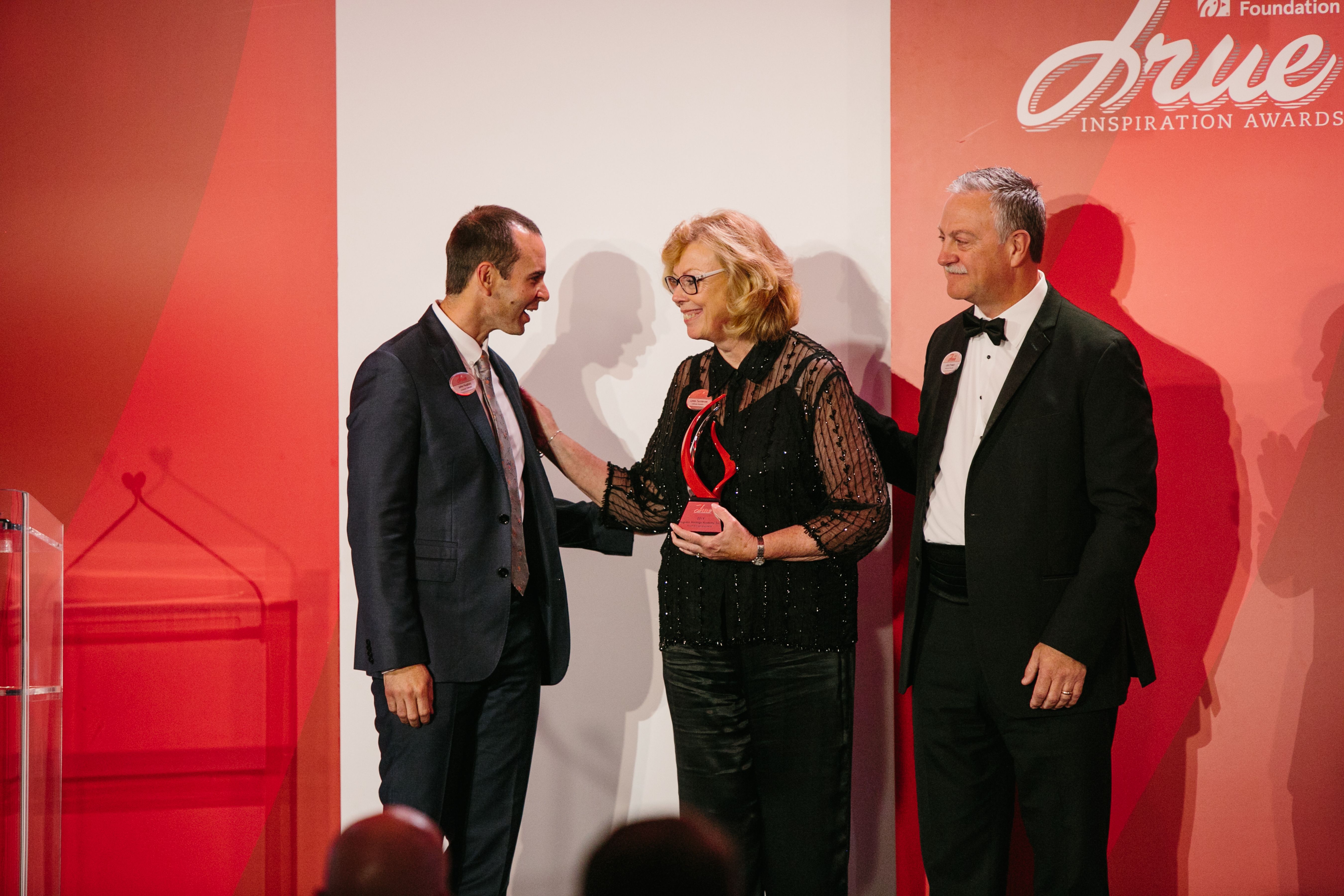 The recipients of the True Inspiration Awards, located in 18 states across the country, were honored individually throughout the ceremony. The grants ranged from $20,000 to $100,000, and each winner either applied for an award directly or received a nomination from a local Chick-fil-A restaurant Operator. In total, $1.23 million in grants were awarded to these inspiring organizations.
Attendees of the event included representatives of the honored organizations, Chick-fil-A restaurant Operators, Chick-fil-A leaders and staff, and other community and business leaders. The evening was emceed by ESPN analyst, Maria Taylor, and concluded with a surprise special performance from Phillip Phillips.
The awards portion of the evening ended by honoring this year's S. Truett Cathy honoree, Mentoring to Manhood. Founded by four men who wanted to make a difference in the lives of young African-American boys in their community, Mentoring to Manhood provided weekly tutoring, group mentoring and family support to more than 150 middle and high school-aged boys. Since receiving the $100,000 True Inspiration Award grant, Mentoring to Manhood has joined together with Community Tutoring Inc. to form Community Youth Advance and now serves 600 students across eight sites in Prince George's County, Maryland. In addition to the grant, Mentoring to Manhood participant Timothy Patterson was gifted a $3,000 scholarship on stage for engineering camp at the school of his choice.
"All of our 22 True Inspiration Award winners are a positive force for change in their communities," said Rodney Bullard, Vice President of Corporate Social Responsibility at Chick-fil-A, Inc. and Executive Director of the Chick-fil-A Foundation. "With kindness, passion and ingenuity, these organizations are solving problems and removing road blocks so children and youth across the country have the opportunity, the support and the confidence to become all they can be. The Chick-fil-A Foundation is honored to support the mission of these not-for-profits and foster continued growth in the communities they serve."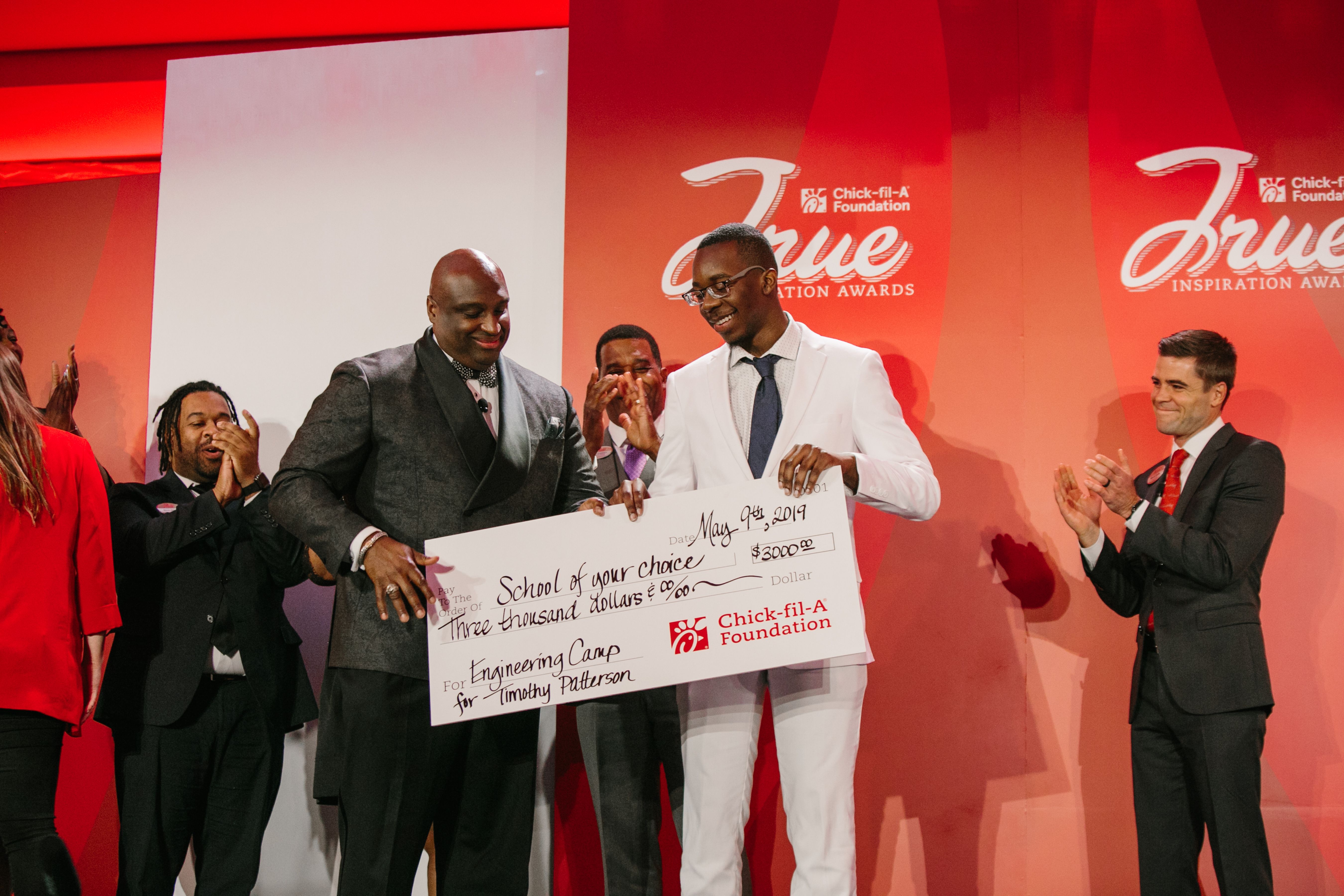 Below are the full list of 2019 True Inspiration Award winners:
Emerging Leader Development Category Winners
Innovative Education Category Winners
Youth Entrepreneurship Category Winners
S. Truett Cathy Honoree
Atlantic Regional Winners
Midwest Regional Winners
Northeast Regional Winners
Southeast Regional Winners
Southwest Regional Winners
West Regional Winners
To learn more about the True Inspiration Awards, visit www.chick-fil-afoundation.org/true-inspiration-awards