Thanks for printing! Don't forget to come back to Chick-fil-A Foundation for fresh articles!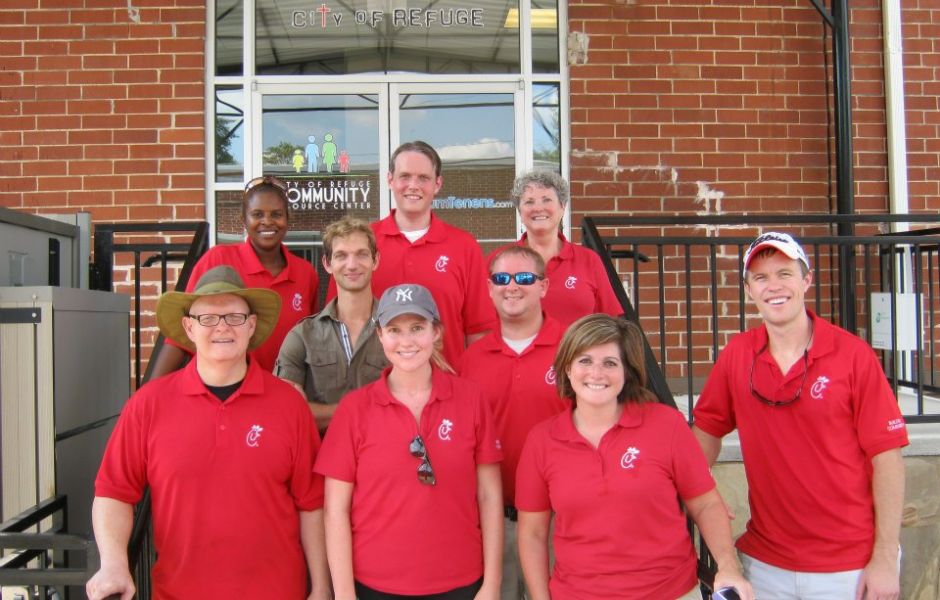 Why we partner
We're better together
The Chick-fil-A Foundation exists to help every child become all they can be. But we know we can't accomplish this alone. That's why we work with other individuals and organizations that know how to best serve the needs of their communities. Our goal is to equip them with the tools, resources and support they need to do their work well. And through our combined efforts, we are able to help change even more lives – and communities – for the better.

Stories inspire us. They contain evidence of hard work and the outcome of a curious mind, and a daring heart.
Dan Cathy
A Partnership like the Best of Friends
Spotlight on Atlanta Mission
Over 7,000 homeless men, women and children live in the city of Atlanta. Through its programs and facilities, Atlanta Mission provides them with critical resources including meals, shelter, clothing, job training, recovery programs, transitional housing, spiritual training and much more.
Get the Full Scoop
Places of Shelter Provided Nightly
Partners Across the Nation
100 Black Men of Atlanta
180 Farm
21 Century Leader
2nd Mile Ministries
AARP Community Outreach
Action Ministries
Allies in Service
Alma G Davis Foundation
Andrew J Young Foundation
Angel Flight
Association of Fundraising Professionals
A Night To Remember Prom
Association Of Village Pride
Atlanta Community Food Bank
Atlanta Council Of Ptas
Atlanta Leadership Development Foundation, Inc.
Atlanta Music Project
Atlanta Partnership Business & Education
Atlanta Police Foundation
Atlanta Public Schools
Atlanta Shakespeare Company
Atlanta Speech School
Atlanta Technical College
Atlanta Youth Academy
Banyan Foundation
Big Brothers Big Sisters Of Metro Atlanta
Big Idea Project
Bloom Our Youth, Inc.
Boys & Girls Club Of Glynn, Inc.
Boys And Girls Club Of Nw Georgia
Break Into Business
By The Hand Club For Kids
Calvary Refuge Center
Campus Community Partnership Foundation
Capacity, Inc.
Captain Planet Foundation
Carrie Steele Pitts Home
Central Pennsylvania Education Foundation
Characterworks
Charles H. Wesley Education Foundation
Chick-fil-a Leader Academy Microgrants (48)
Children's Healthcare Of Atlanta
Children's Museum Of Atlanta
City Of Atlanta
City Of Refuge
Clayton County Schools
Community Council Of Metropolitan Atlanta
Computers For Youth Foundation, Inc.
Connectability
Covenant House
Cultural Arts Center Of Douglasville
Dan Jansen Foundation
Dikembe Mutombo Foundation, Inc.
East Lake Foundation
Effective Leadership Academy
Emerging 100 Of Atlanta
Emory University
Faith Christian School
Family Heritage Foundation
Fayette County Schools
Feed My Lambs, Inc.
Feeding Children Everywhere
Fellowship Of Christian Athletes Urban Atlanta
Fellowship Of Christian Athletes Chicago
Fellowship Of Christian Athletes Seattle
Friends Of English Avenue
Friends Of Refugees
Fulton County Commissioner Office
Fulton County Juvenile Court
Fulton County Police Department
Fulton County Public Safety Junior Deputy Program
Fulton County Schools
Ga Tech Baseball
Gate City Foundation, Inc.
Genesys Works - Twin Cities
George A. Lottier Foundation
Georgia Association Of Black Women Attorneys
Georgia Family Connection Partnership
Georgia Foundation For Public Education
Georgia State Rialto Jazz For Kids
Girls On The Run
Greater Vine City Opportunities Program
Greenberg Traurig Llc
Hands On Atlanta
Harvard University
Have Foundation
Heart For The City
Henry County Communities In Schools
Home Depot
Impact Northern Kentucky Regional Youth Leadership
Innovation In Action
Institute Of Responsible Citizenship
Ivy Prep Academy
Johnnetta B. Cole Women's Society Power Panel- United Way Of Atlanta
Junior Achievement Usa
Junior Achievement Of Georgia
Junior Achievement Of New York
Junior Achievement Of Oregon & Sw Washington
Junior Achievement Of Washington
Juvenile Court Association Of Georgia
Kidz2leaders
Kile's Kamp
Kipp Metro
Kipp Strive
Konos Academy
Lead Atlanta
Leadership Buckhead
Leadership Dekalb
Leadership Southern Maryland
Leukemia & Lymphoma Society
Lifework Leadership
Lindsey Street Baptist Church
Live Healthy And Thrive Foundation, Inc.
Mary Parker Foundation
Mcnair Middle School
Meals On Wheels
Midwest Food Bank
Mlk, Jr. Poor Peoples Church
Money Smart Foundation
Morehouse College
Morehouse School Of Medicine
Must Ministries
National Council Of Negro Women
National Junior Disability Championships (njdc)
New Hope Academy
New York Cares
Oglethorpe University
One Talent, Inc.
Operation Hope
Our Neighborhood Homework House
Outside Looking In Foundation
Page Foundation, Inc.
Page Turners Make Great Learners
Palmer House For Children
Pba Homework Hotline
Peace Prep Academy
Peachtree Presbyterian Preschool
Pointe South Middle School
Raising Expectations
Reach Georgia Program Summer Leadership Development
Real World Expo
Restoration Atlanta
Rising Seniors Foundation, Inc.
Rotary Club Of Atlanta
Ryan Cameron Foundation
Salvation Army
Samaritan House Community Center
Savannah's Playground, Inc.
Sheriff's Community Impact Program
Side By Side Kids
Smithsonian Institution
Saving Our Sons & Sis International
South Atlanta High School
Spelman College
Sporty Girls, Inc.
Summerhouse, Inc.
Sunshine On A Ranney Day, Inc.
Tabernacle Of Praise Church International
Teen Center Usa
Teens At Work, Inc.
Terry College Of Business
The Bedford School
The Community Foundation
The Compound Foundation
The Enterprise Center
The Epstein School
The Gifted Foundation
The Henry W. Grady Health System Foundation
The Posse Foundation
The Stewart Foundation
True Colors Foundation
U.s. Attorney's Office
United Negro College Fund
United Way Of Metro Atlanta
United Way Young Professional Leaders
University Of Georgia Foundation
Urban League Of Ga
Urban League Of Greater Atlanta Young Professionals
Utopian Academy Of The Arts
Vine City Code Class- Redeemer Church
Virgil Fludd Scholarship Foundation
Vision Atlanta, Inc.
Wellspring Living
Westside Future Fund
White House Fellows Foundation, Inc.
Who's Who Of Asian America Association
Wilderness Works
Winship Cancer Institute
Woodruff Arts Center
Ymca Of Greater St. Petersburg
Youth Enhancement Services, Inc.
Youth Entrepreneurs Of Georgia
Care for Aids
Georgia Court Appointed Special Advocates
Emerald Corridor Foundation
Methodist Home of the South GA Conference
Alabama Institute for Deaf and Blind
Atlanta Legal Aid Society
Nicholas House
Westside Atlanta Charter School
Airforce Academy Athletic Corporation
Georgia Hispanic Chamber of Commerce
Make a Wish Georgia
Medshare
Camp Glisson
Atlanta Boy Choir
Abby's Angels Foundation
Upward Unlimited Foundation
Samaritan's Feet International
Robin Hood Foundation
Atlanta Business League
Operation Showers of Appreciation
Goodwill Industries of Middle Georgia
Rivercenter, Inc.
Georgia Aquarium
CHRIS 180
The Jack & Jill Late Stage Cancer Foundation
YWCA of Greater Atlanta
Special Olympics Georgia
Favor House, Inc.
United Way of Greater Atlanta
Technical College System of Georgia
Pace Center for Girls
Hillels of Georgia
Georgia Historical Society
Paul Anderson Youth Home
Fulton College Prep
Georgia Military Prep
Crista Ministries
Calvary Refuge Center
Academy of Children's Theatre
Fellowship of Christian Athletes Kansas City
National Monuments Foundation, Inc.
Hollis Innovation Academy
The Gifted Education Foundation
Iridescent
The Mission Continues
Trust for Public Land
The Lovett School
Power my Learning Atlanta
First Step Staffing, Inc.
Boys & Girls Club of Metro Atlanta
Youth Horizons
Celebrate Life International
Marcus Jewish Community Center of Atlanta
Communities in Schools
Georgia World Congress Center
For Pete's Sake Cancer Respite Foundation
Kids Central Inc.
The Bridge Teen Center
Straight Ahead Ministries
Endeavor Global Inc.
Professional Association of Georgia Educators Foundation
YMCA of Metropolitan Atlanta
Arete Scholars Indiana Inc.
Travis Manion Foundation
Lake Avenue Foundation
The Road Home
Whitfield Academy
Southern Poverty Law Center
Chastain Park Conservancy
Collegiate Entrepreneurs Organization (CEO)
Celebrate EDU
GLOW Inc.
Create Your Dreams Inc.
Georgia Lions Lighthouse Foundation
Atlanta Mission
President & Fellows of Harvard College
Foundation for Public Broadcasting in Georgia
Boy Scouts of America
Helping Hands Ministries
Hospitality Business Network Foundation
Georgia Center for Child Advocacy
The Let it Be Foundation
Central Texas Table of Grace
Herman J. Russell Center for Innovation and Entrepreneurship
Play for All
Chicago Education Partnership
Down Syndrome Association of Atlanta
Usher's New Look Inc.
House of Charity, Inc.
The Path Project
New City Kids
Dekalb Library Foundation
Jay's Hope Foundation
Special Kids Inc
The Yunion
Urban Youth Impact
Woodward Academy
Shepherd Center Foundation
Savannah College of Art & Design
Habitat for Humanity in Atlanta
Clayton State University
No Longer Bound Inc
USO Council of Georgia
Berry College
Alice Lloyd College
Court Appointed Special Advocates
Spanish Community Center
Student Leadership University
Young Harris College
New Leaders Council
National Cares Mentoring Movement
College of the Ozarks
Georgia Military College Prep School
First Book
Jewish Foundation of Greater Atlanta
Truly Living Well Center for Natural and Urban Agriculture